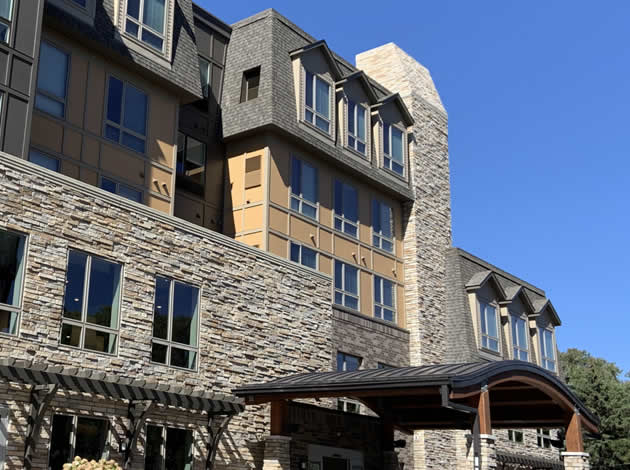 About Us
At Global Pointe, you can live your best life in comfort, style and with refined amenities within our active Minnesota senior living community. This distinctive, boutique-style community in Golden Valley, MN, is designed to make connecting with like-minded neighbors and friends effortless. We are conveniently located near Robbinsdale, Crystal, New Hope and St. Louis Park for visits with nearby friends and family. You will immediately appreciate our focused-design in our shared living areas with shorter hallways for easy access to community activities and senior care amenities. You will love the floor-to-ceiling windows and high-end finishing touches available in a variety of apartment styles ranging from studios to 2-bedroom/2-bath units.
Managed by SilverCrest Properties, Global Pointe provides exceptional quality for our senior community with spectacular living space designs, personalized care options and many facility amenities. You will find a full-range of living options for seniors with healthy and active lifestyles, with assisted care available for those who need it. Choose from independent living, assisted living, enhanced assisted living, respite and memory care suites, all with access to our rewarding amenities and community events. Our active seniors love the convenience of local shopping, dining and activities in Golden Valley, downtown Minneapolis and other nearby Twin City locations.
With chef-prepared meals, enriching activities and inspired spaces, Global Pointe has everything you need to enjoy life to its fullest at any age. We offer independent senior living for active residents, enhanced assisted living, memory care private suites and a wide variety of senior comfort services. Contact our office in Golden Valley to learn more about joining our vibrant senior community.
Our Vision
"My Vision for a New Way of Life – We all want the best for our loved ones, and that's what drove me to create Global Pointe. In the process of looking for a new setting for my mother, I envisioned something smaller in scale, with luxurious high-end finishes. An environment where it's easy to meet neighbors and enjoy the many amenities together.
I selected SilverCrest Properties as the managing partner because of their "Residents First" philosophy. They've been focused on senior living for over 30 years and have developed some very innovative programs to help seniors find excitement in each day, build relationships, and strengthen body and mind through exercise, nutrition and new learning.
Global Pointe is such an exciting project! Our plans include a fitness center with state-of-the-art Technogym equipment, chef-prepared meals, a four-season porch and rooftop deck, billiards room, library, theater, art studio and much more. With a huge variety of floor plans to choose from and SilverCare services as needed, I'm confident that this welcoming and distinctive community will provide a wonderful opportunity to enjoy life just a little bit more."
– Mark Globus, Ownership Group