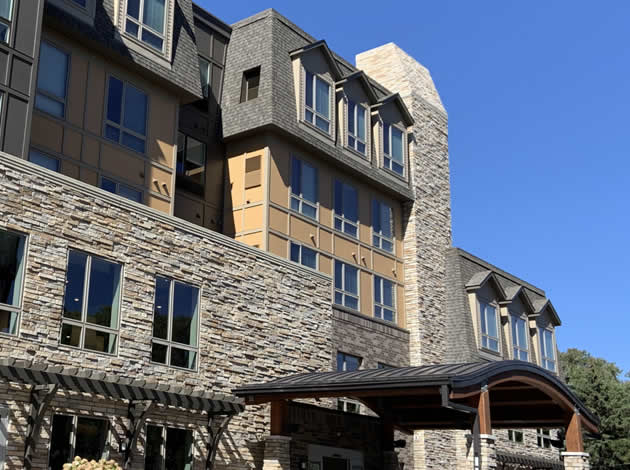 About Us
At Global Pointe, you can live your best life in comfort, style, and award winning personal care in our Minnesota senior living community. This distinctive boutique sized community in Golden Valley (MN), is designed to make connecting with like minded neighbors effortless while receiving the care and assistance you need. We are conveniently located near St. Louis Park, Minnetonka, Plymouth, New Hope and Minneapolis. Our central location at I-394 and Highway 100 makes visits from family and friends highly convenient. You will immediately appreciate our smaller boutique sized building with shorter hallways for easy to access amenities and activities. You will love the floor-to-ceiling windows and high-end finishes available in a variety of apartment styles from studios to 2 bedroom plus den/2 bathroom apartments.
Global Pointe provides exceptional quality for our senior community combining spectacular living spaces with unparalleled care. You will find a full range of living options from those who need significant levels of care to those who can live independently. Choose from Independent Living, Assisted Living, Enhanced Care, Memory Care and Respite Suites. Global Pointe's central location is unprecedented for ease of shopping and convenient visits from family.
With chef-prepared meals, enriching activities, inspired spaces and our friendly and upbeat care team, Global Pointe has everything you need to enjoy life to its fullest. We offer a wide variety of living options ranging from Independent Living to Assisted Living to Memory Care. We have been voted best Senior Living Community in Golden Valley two years running. Contact our marketing team to learn more about the Global Pointe approach to care.
Our Vision
"My vision for a new way of life – We all want the best care for our loved ones and that's what drove me to create Global Pointe. In the process of looking for a new setting for my mother, I envisioned a building smaller in scale, with luxurious high-end finishes and experienced care delivered with warmth and a smile. An environment where it's easy to meet neighbors and at the same time receive top rated nursing care and support.
Global Pointe is a model living experience for those who need a little additional care and assistance. From our fitness center, featuring state-of-the-art Technogym equipment to our four season porch, rooftop deck, library, mini movie theatre Global Pointe makes life better. We have a huge variety of floor plans and nursing care services, I am confident that this warm, welcoming and distinctive community will provide the opportunity for many seniors to live a more rewarding life with all the care and support they need."
– Mark Globus, Ownership Group